SUDS is a Sustainable Urban Drainage System. Most natural ground surfaces, such as grass and soil, are permeable. Built-up areas are very different, featuring predominantly close graded tarmac, concreate and other kinds of paving. These are not permeable, and surface water is unable to infiltrate the ground. The resulting surface runoff can cause a number of issues, including water pollution and flooding.
Is a Resin Bound System SUDS Complaint?
Yes, your Resin Bound surface will be SUDS compliant providing it is laid onto a porous base. This should be open textured tarmac on top of a type 3 stone sub base. Laying a resin bound system onto an impermeable base such as concrete will NOT be SUDS compliant. Resin-bound aggregates have small gaps between each aggregate where water is able to infiltrate the ground beneath. A resin-bound surface can handle 850 litres of water per square metre per minute.
MOT Type 3
This product has been produced to create a reduced fines aggregate but NOT zero fines. To the naked eye, this product is very similar to Type 1 but from a technical standpoint, they are very different. This product is fully certified according to the Specification for Highway Works.  MOT Type 3 also known as DOT Type 3 named after the Department of Transport (DOT) specification for granular sub-base material is also the most widely used approved sub-base where SuDS (Sustainable Drainage Systems) legislation is imposed when constructing permeable surfaces. In order for a product to be classed as 'Type 3' quality, it must comply with the Department of Transport Specification for Highway Works, clause 805 (SHW 805). This product may be 75mm or 40mm down depending on the location it is quarried and can be made from Granite, Limestone or Basalt and has become increasingly popular as a permeable sub-base aggregate.
What is the best tarmac spec when laying resin-bound stone?
AC14 or AC20 open textured tarmac is the best base for resin driveways. This permeable tarmac makes the system SUDS compliant by allowing rainfall to permeate slowly through the base and soak away to the ground below. 20mm /14mm is the preferred size of stone in the asphalt because it is more tightly knitted and there are more contact points, creating a stronger bond.
For standard resin driveways, the pen rating of the tarmac should be 100-150. This should not soften until the temperature gets to 40°c.
A limestone-based tarmac is the best option for resin driveways because it has less thermal expansion. This means that as it starts to get warm and the tarmac begins to expand, the resin is less likely to crack. Limestone-based tarmac is more readily available in central England. The north and the south of England have different granites with a greater rate of expansion, so it is always best to check with your asphalt supplier.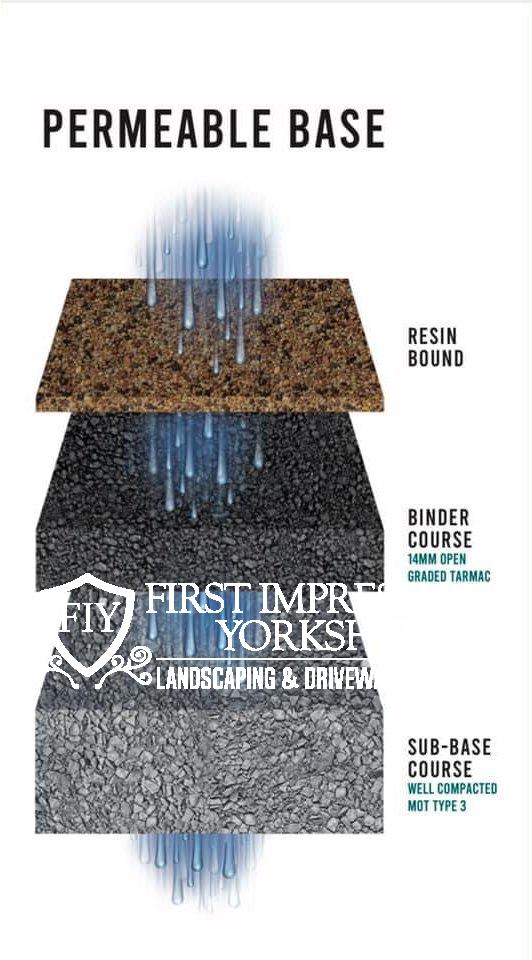 What is the best base for Resin Bound stone?
When deciding what base to choose for your resin-bound gravel installation, it is first important to establish whether there is a suitable existing base that can be utilised. Resin-bound can be overlaid onto existing tarmac or concrete surfaces of suitable construction for the expected traffic. They need to be crack-free and in good condition. If there is any possibility for movement in the concrete or tarmac, the resin overlay surface can fail this may affect the guarantee and longevity of the resin-bound surface.
Generally, when installing an overlay, the current base will not be permeable. In most circumstances, if a new base is to be installed, first impressions Yorkshire ltd will ensure it is permeable and SuDS (Sustainable Urban Drainage System) compliant. Longer guarantees can often be offered when contractors install the full base build up themselves. This is because you know the base build-up has been installed in line with best practices for resin-bound and there are no nasty surprises at a later stage.