Resin Bound Rubber Crumb Rotherham
expert surface laying with over 10 years of experience in the industry. We have the best resin bound rubber crumb surfaces in Rotherham.
Unmatched resin bound rubber crumb surfaces in Rotherham
First Impressions Yorkshire is the largest provider of high-quality resin-bound rubber crumbs in Rotherham. Our goods are built to endure and may be used to transform outdoor parks into an outside environment that is beautiful, soft underfoot, and usable all year.
We provide free samples so you may evaluate the quality of our work before purchasing anything from us.
These surfaces are also resistant to cracks and fading, thanks to their construction from recycled tires, which last longer than other materials like concrete or asphalt.
Furthermore, if you ever decide to change the colour of your flooring, it will not be as expensive as replacing a whole slab!
Benefits to Resin Bound Rubber Crumb
The advantages of resin-bound rubber crumbs include the fact that they are biodegradable and environmentally beneficial. The advantage is that it is non-toxic when handled with the substance.
Reduced usage of hazardous chemicals in the production of rubber flooring goods is one of the advantages.
Rubber is often produced by combining natural but hazardous chemicals such as coal tar and zinc oxide, but resin-bound rubber crumbs may be manufactured without these components, which improve their sustainability and safety profile.
Why Choose First Impressions
Our team has over 10 years of experience working with resin bound rubber crumb surfaces for parks and pathways, so we know what works best when it comes to durability and design. 
We have qualified professionals in the industry ready to tackle your needs.
You can trust our experienced team to deliver high-quality results every time.
We also provide free consultations and estimates before any work begins! That way you can be sure that our services are right for your needs before anything starts happening on site.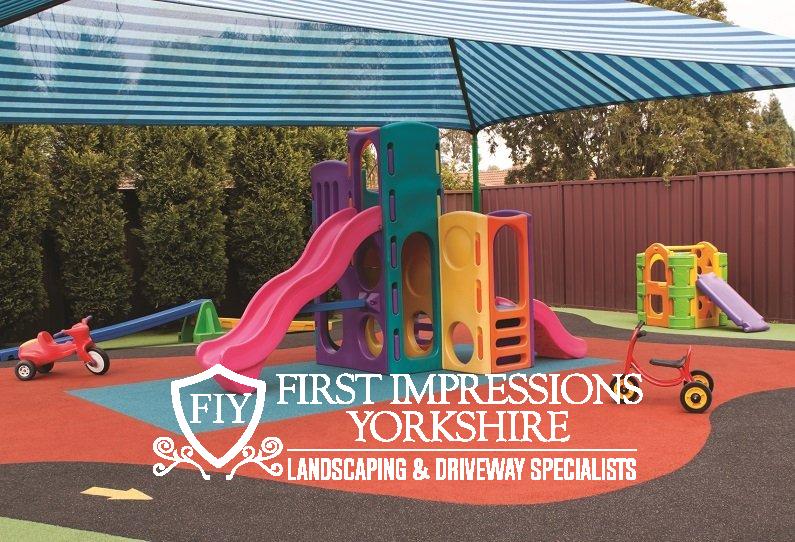 We hope we've addressed all of your queries and questions about our resin bound rubber crumb surfaces in Rotherham. However, if you'd like further information, please do not hesitate to call us now using the number below,
If you would rather email us you can do so by emailing,