Rotherham Composite Fencing
We have highly qualified professionals who are fully dedicated to getting your job done. With over 10 years of experience, First Impressions can install your new composite fence in Rotherham.
Unrivalled Composite Fencing Service
First Impressions Yorkshire is the best choice for composite fencing in Rotherham. We have over 10 years of experience and we're known for our quality workmanship, attention to detail, and customer service. Our team will make certain that your fence is in excellent shape for many years to come.
We offer only the highest quality materials, and we build them to last, so you can rely on us for all of your fencing requirements. We'll do it right the first time if you need composite fencing in Rotherham, so you won't have to worry about future repairs.
Composite Fencing Installation
We start by measuring the area that you want the composite fence installed. When you have chosen the materials, we will pick them up. Once we get there, we will assemble all of the materials and make any adjustments needed to make sure it's level and looking good.
Then we'll dig your post holes. Next, we'll set your posts in your holes and set your horizontal boards up with spacers which are used to create even spacing between them. After that, it's time for some staining!
We will stain each board. Lastly, it's time for installation! We'll install boards on one side then the other until the side is complete–then do another row next to it!
Finally, we can now start staining any parts of the fence that will be visible to make it look uniform and beautiful! Our goal is for you to have a fence you can enjoy for years to come!
Benefits to Composite Fencing
Composite fencing is a composite material that has a plastic core instead of just being a laminated product. It's environmentally friendly since it's made from recycled plastic bottles and salvaged timber that has previously been transformed into two-by-six boards.
We have listed some other benefits to our product below.
Why Choose First Impressions
You won't have to worry about rust or decay with our composite fencing anymore! Our high-quality supplies are designed to last for decades, ensuring that your fence looks as good as new for many years to come.
We're sure you'll love its unique style and how it complements your home! Our fence panels are made with recycled materials, so they're also better for the environment than other types of fences on the market. Plus, we provide free estimates so that you can evaluate how much your project will cost before we start working on it.
When it comes to composite fence installation in Rotherham, there is no other business with more expertise than First Impressions Yorkshire.
We've been offering high-quality composite fencing for over 10 years, and we'd be delighted to provide references upon request.
Our team only uses high-quality components from trustworthy vendors who only provide top-of-the-line goods that comply with industry norms.
Please contact us for a free estimate now! Our team of highly experienced experts is ready to install your new fence and is ready to begin working on it as soon as you are.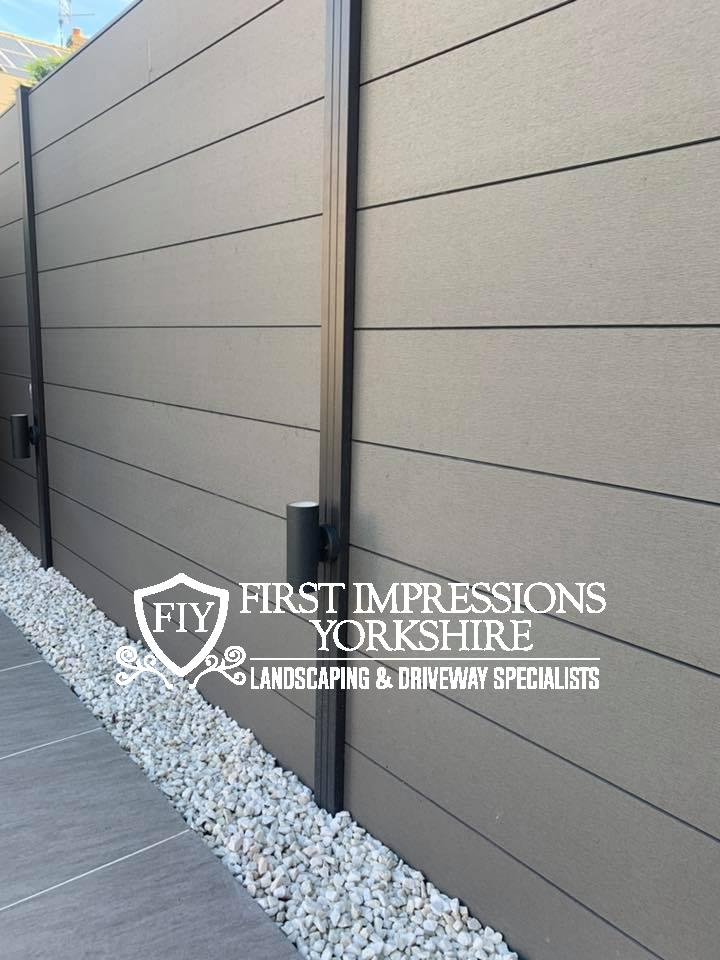 Hopefully, we have addressed all of your questions regarding composite fencing. However, if you still require more information then do not be afraid to pick up the phone and call us on,
If you would rather email us you can do so by emailing,