How Much Do Resin Driveways Cost
What is a Resin Driveway and How Much Does it Cost to Install One
A resin driveway is a driveway that is made of polymeric created from a mixture of sand, Portland cement and water. This mixture will be poured over a substrate of stone or tar-rock and then compacted into a surface for cars to drive on.
A traditional concrete driveway consists of aggregates that are placed together with Portland cement and then covered in sand, gravel and water to create the mixture.
Resin driveways do not crack or break apart when it comes to contact with vehicles driving on them because the materials used are more flexible than the ones used in concrete driveways. 
The polymers in resin driveways can withstand different weather conditions without breaking apart because it was designed for this purpose. The resins that are found in resin driveways are used in a variety of other products such as skateboard ramps and boats so you know they can last through the elements.
The cost to install a resin driveway will depend on how much work is done, the size of your driveway and what company installs it for you. The cost of a resin driveway is normally around £2,400 for a 40m2. The average cost per square metre is anywhere from £40-£70. 
The size of the driveway will definitely be one of the main factors that affect the price because more materials will need to be added to make sure it's big enough for cars to drive on safely. Another factor that affects the price is the company you use. First impressions Yorkshire offer driveways all over Yorkshire including resin driveways in Sheffield.
As explained above there are many different quotes you could receive for your driveway. There are many factors that come into play when companies are giving you a quote. These factors include the size of the aggregate used to the cost per hour for labour.
What are the different sizes of aggregate?
There are a few different sizes of aggregate available for driveways. These span from 1.2mm all way up to 10mm which is the largest type of aggregate available. Each different size of aggregate must be installed at a different depth. The usual rule which is used by most businesses is that the depth is 3 times the size of the largest aggregate. For example, a driveway with an aggregate size of 2-5mm would be installed at the depth of 15mm. A standard resin driveway is normally installed at a depth of 1-5mm with aggregate sized 1-5mm.
Cost to lay resin over your current surface
Some good news is if you already have a tarmac or concrete drive, the resin can be laid over the top. As well as this, the resin can also be laid over paths and patios. The cost for this is measured in square metres and is anywhere from £40-£70 per square metre and averages at £60.
If you have a block paved driveway, talk to your resin drive professional about your choices. The price of the resin is generally similar, however, your installer will need to see whether installing over the concrete is feasible or if you'll need to remove the concrete and create a new sub-base.
If you have a grassed or stoned area beneath your driveway, the preparation work will include excavation and putting compact stone before laying an asphalt base. All of this must be completed before resin-bound can be installed, and it's likely to be at least as expensive as the resin.
Resin Driveway Cost Compared to Concrete cost
A concrete driveway will cost you about £40 per square metre. You can expect a contractor to charge you up to £150 for installation, and commercial businesses may pay upwards of £400-£500 for installation.
 On the other hand, a resin driveway will cost you about £60.00 for every square metre of the surface area according to the website of Quick Resin Driveways. You can expect a contractor to charge you up to £300 for installation, and commercial businesses may pay upwards of £600-£750 for installation. 
Quick Tip: The most popular choice for resin driveways is an epoxy colour coat. This is because you can choose any colour that your heart desires, and it will be guaranteed to not fade in the Sun over time.
After a time even cleaning a concrete drive may become more difficult due to cracks in the pavement where water gets trapped inside over time. 
An overhanging roof on the home above the driveway can help prevent this from happening, however, if it is not possible then all you have to do is remove snow during winter time to prevent it from accumulating. When this happens, the concrete surface can become even more slippery than it already is, which increases your chances of falling.
Resin Driveways absorb the water and therefore there are no puddles and it will not become slippery like concrete. As well as this the upkeep costs are very little as it can be easily cleaned with a brush and a jet wash.
Another advantage of resin driveways is that they are far more durable than concrete. Over time concrete will crack causing it to look unpleasant and devalue the price of your home.
 A resin driveway can last up to 25 years with proper maintenance, making it a great investment for your home.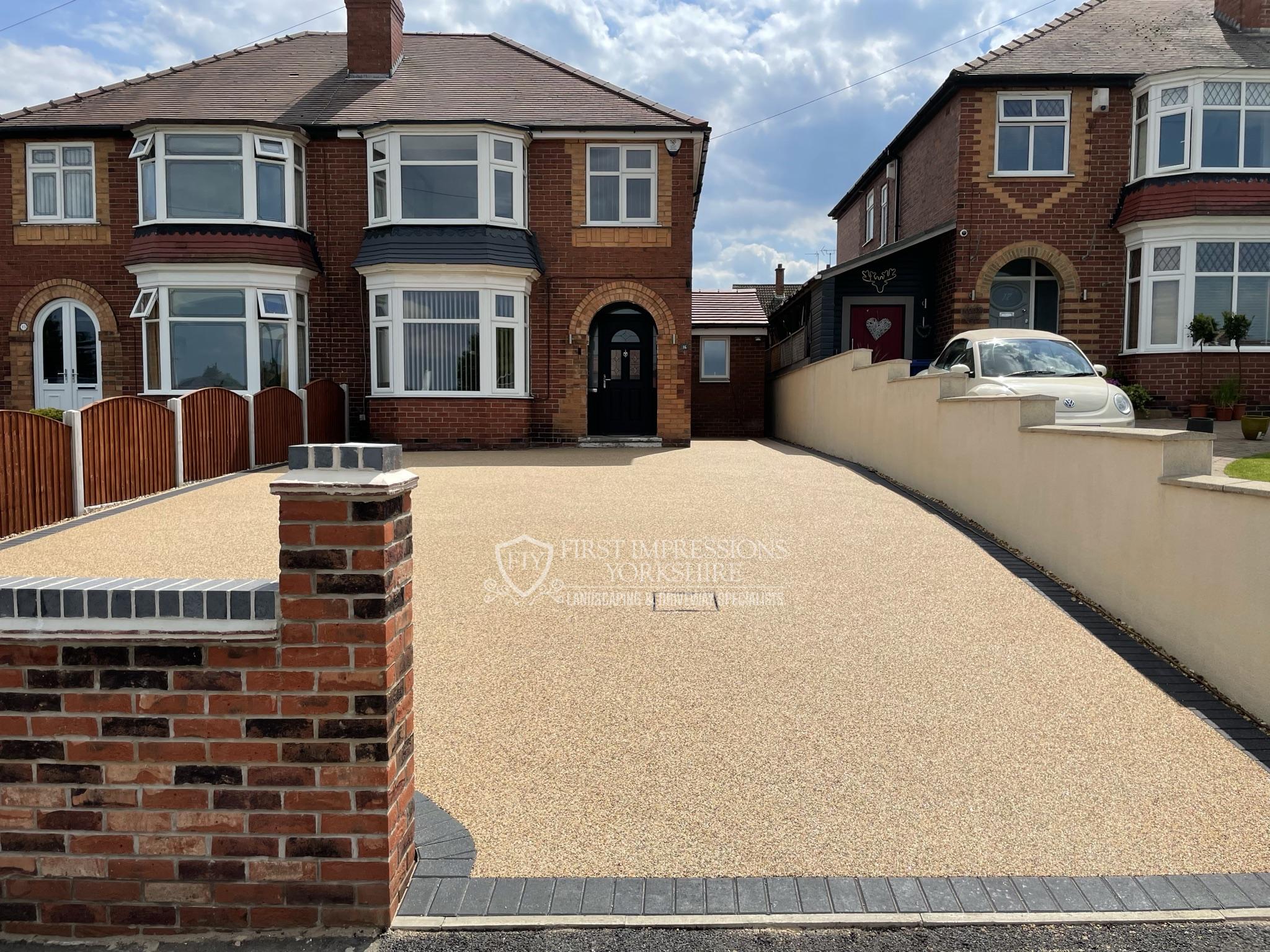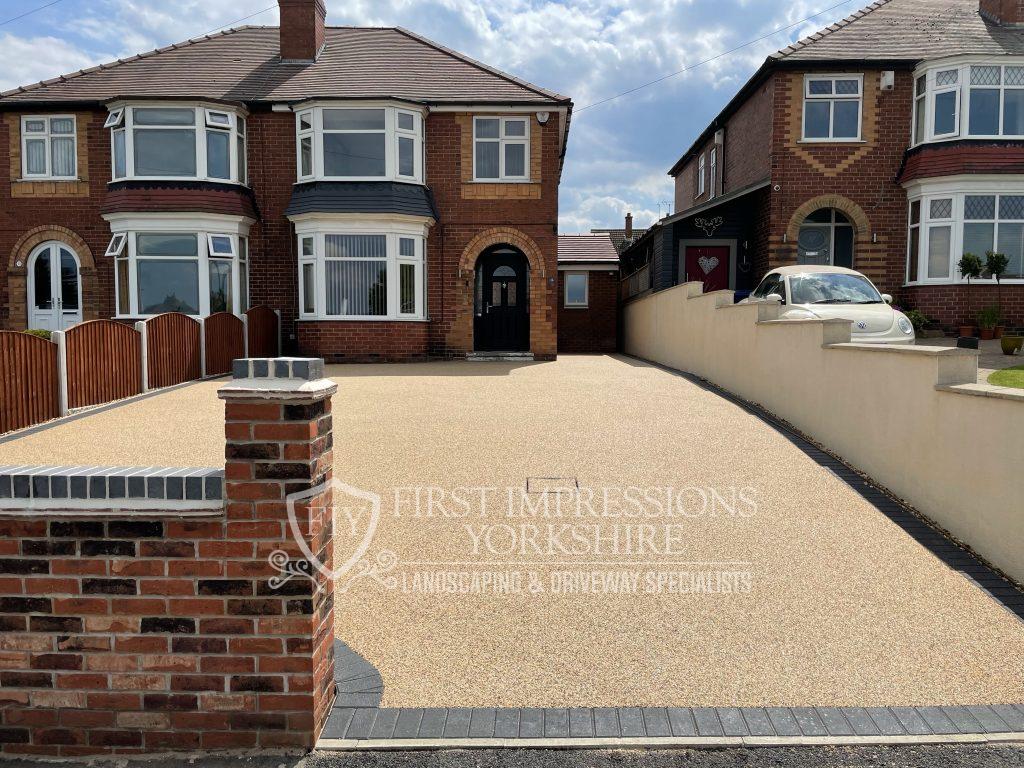 Resin Driveway Cost Compared to Asphalt cost
The cost of asphalt driveways varies depending on the size and location where the work is to be done. 
The price can range from £40 to £100 per square metre for labour charges, with an additional £5-£10 per square metre for materials. For instance, in London, prices can range from £70 to £200 per square metre. 
This is because there are different areas that have various costs associated with them. Some urban places, such as the capital city, have more expensive labour taxes for contractors.
An asphalt driveway can vary in life span depending on its quality and how it is maintained. Generally speaking, a single coat of asphalt should last anywhere between 5-10 years before you need another top coat of seal.
A resin driveway can last up to 25 years if proper maintenance is carried out regularly. They usually last around 15-20 years on average.
 As well as this they can be cheaper than asphalt drives but they may require more maintenance.
How Often Should I Maintain My Resin Driveway
To maintain your resin driveway, it is recommended that you clean off any dirt or debris with a heavy brush. Doing this every few months should prevent your resin drive from being damaged by the debris.
If you live in a cold area, it is important to clear any snow or ice off your resin driveway before it freezes. When the water freezes on your resin driveway it can become unsafe.
However, it should rarely happen as the temperature only drops that low for around 3-4 months of the year. As well as this, water can seep through the resin into the surfaces underneath.
How Long Can Resin Driveways last
Resin Driveways can last up to 25 years if proper maintenance is carried out regularly. They usually last around 15-20 years on average. Average Resin Driveway Cost.
Resin driveways can be installed at all times of the year, however, we recommend that you install them during winter or early spring to ensure that they do not suffer from damage due to fluctuating temperatures throughout the year.
If the temperatures are fluctuating a lot during the installation process it can take a lot longer to lay down.
Are you considering a resin driveway in Yorkshire?
We are the UK's leading manufacturer of resin driveways. Our products have been used on projects all over the country, including some of Yorkshire's most prestigious homes. If you want to know more about what we can do for your property, please get in touch today!
A resin driveway can be an attractive and affordable option. It's also durable, low-maintenance, and easy to install. We have the best team of experts in the business who will work with you every step of the way to ensure your satisfaction. You won't find another company like us on the market today. We offer free quotes so there are no surprises when it comes time to pay! Our goal is 100% customer satisfaction from start to finish – we want your experience with us to be nothing short of amazing!
You won't find a better product or service anywhere else – and with our free quotes and no-obligation consultations, there is no reason not to give us a call right now! It doesn't matter if it's an emergency job or something that can wait until tomorrow – we will be here when you need us. Contact us today.